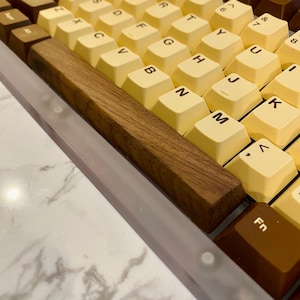 I purchased the 6.25u walnut space bar. Tim was awesome! When I got the space bar I was not disappointed. The quality of it is great and I love it! It fits a little tight on my stems, which are the Gateron Black Ink V2s, but I like stems to be on there tight rather than loose. They have a great thocky sound to them as well. He included a backspace for me of the same color as free gift and it is of the same quality and finish. I would definitely recommend buying anything from Tim.
Ray さんのレビュー(2022年 01月 19日)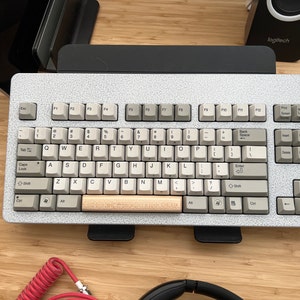 Perfect on my realforce
mario さんのレビュー(2022年 04月 8日)
Keycap was exactly as described. Looks and feels great! A wonderful addition to my keyboard.
pmwalk11 さんのレビュー(2022年 03月 25日)
The light color suits my HHKB Snow really well, maybe even better than the birch spacebar I purchased earlier.
紫川 さんのレビュー(2022年 03月 10日)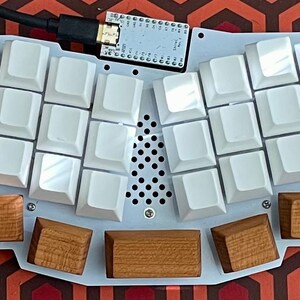 This seller is incredibly responsive. I reached out to ask a couple of questions and they worked with me to create exactly what I wanted. The caps came packaged incredibly well and are precisely how they were described. The caps have a beautiful finish and pleasant feel.
Mike さんのレビュー(2022年 02月 23日)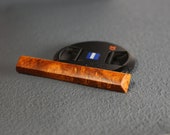 Really beautiful piece. Very happy with the purchasing process and communication from the artist, as well as the care taken in shipping (sent in a custom case to prevent damage).
Colin さんのレビュー(2022年 02月 22日)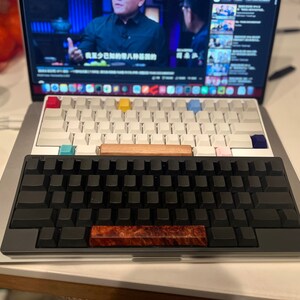 love the sound and feel!
紫川 さんのレビュー(2022年 02月 19日)
love the sound and feel
紫川 さんのレビュー(2022年 02月 19日)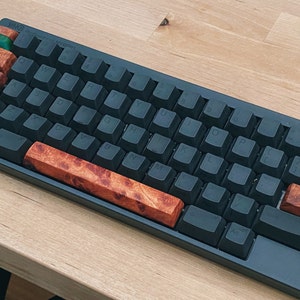 Great seller, smooth communications, product with outstanding handwork and quality. Bought for my bf and he loves it!
Xinyi さんのレビュー(2022年 02月 3日)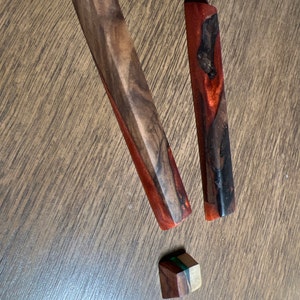 Received well made wooden keys, the support Mr Tim Lee gives to his customers is very detailed and he makes sure to correct or make your purchase a happy one! Thank you very much again!
Andrew さんのレビュー(2022年 01月 23日)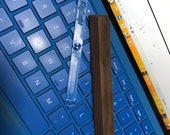 High quality item and arrived safely.
Caleb さんのレビュー(2022年 01月 10日)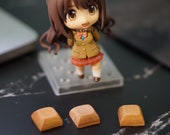 Wonderful caps with great craftsmanship <3
Eric さんのレビュー(2021年 12月 31日)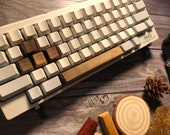 Amazing quality - I am very impressed with the product received.
Aaron さんのレビュー(2021年 09月 30日)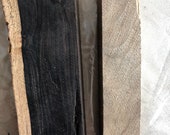 I have to give 5 stars for the customer service alone. KeySculptNerd was very responsive to any questions I had, and also kept me updated throughout the ordering process. The key caps I received were very nice, but a bit taller than the cherry profile I was expecting (closer to OEM profile). KeySculptNerd was very gracious and willing to work with me on correcting that, and I will definitely order from this shop again.
eplatt89 さんのレビュー(2021年 07月 24日)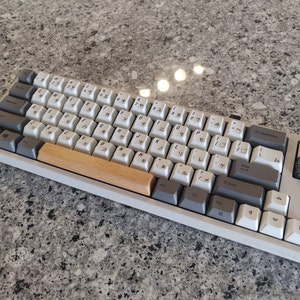 This is a beautifully created custom spacebar. Sits perfectly straight on my Leopold Fc660c.
Caleb さんのレビュー(2021年 07月 13日)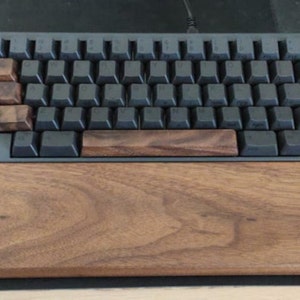 Custom order that is awesome, all the keys are handmade and fit perfectly on my HHKB keyboard. They are all really well made and are robust. On top of that, the seller, and craftsman, kept me updated about the progress of the manufacturing and sent me a video to show me that the keys fit the keyboard before sending them. Thanks a lot ! Will order again !
Tristan さんのレビュー(2021年 06月 18日)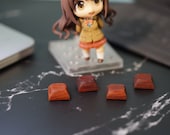 These things actually look nicer in person that what the image suggests, and they feel solid to boot. Only complaint I have is the finish is still a little tacky, but that's likely a result of the long shipping times these days - like any wood finish, letting it sit in the open air will inevitably dry it out.
Kyotra さんのレビュー(2021年 06月 14日)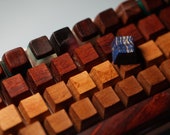 very good service and good quality~~~~
Cheung さんのレビュー(2021年 05月 12日)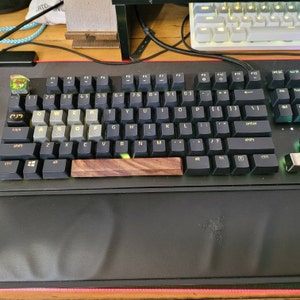 Amazing product and amazing seller. KeySculptNerd gave me so much advice and help. Even when I messed up my specifications for the key he sent me a 2nd correct one! This seller is obviously passionate and it shows in his products and service. I would absolutely by from them again.
Daniel Dominic さんのレビュー(2021年 04月 30日)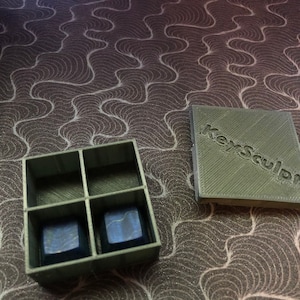 Had two keycaps made for my R4 modifiers and couldn't be happier with the results. Shipping time was longer than expected however not the sellers fault, he made me two additional keycaps for my wait. When the keycaps did arrive, I was greeted with a 3d printed box with my keycaps individually wrapped and a hand written note thanking me for my support. Seller was constantly in communication with me and responded in a timely manner each time. I am very pleased with these keycaps and would highly recommend!
Christian さんのレビュー(2021年 04月 1日)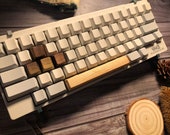 If you're after handcrafted keys, KeySculptNerd is excellent. They're hand-sculpted and Tim makes the effort to test the keys before shipping. I love the maple return key for my regular HHKB, and will contact Tim when I order the JP version.
Michael さんのレビュー(2021年 03月 28日)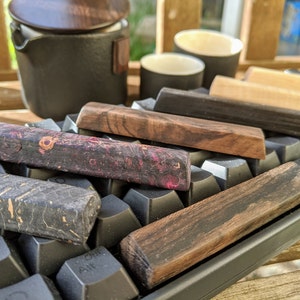 Thank you so much. Describing KeySculptNerd as passionate about his craft would an understatement. He went above and beyond making nine(9) different beautiful and unique custom 4.5u spacebars for me! Each is perfect in it's own way. He spent countless hours answering my messages and showing me prototypes/concepts. His effort shows in the quality of his work. If you want the BEST wooden keycaps, KeySculptNerd is your guy!
jiexi さんのレビュー(2021年 03月 22日)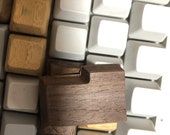 Really nice guy! Thanks a lot for doing the custom ISO enters! <3 It turned out super beautiful :3
Michelle さんのレビュー(2021年 03月 19日)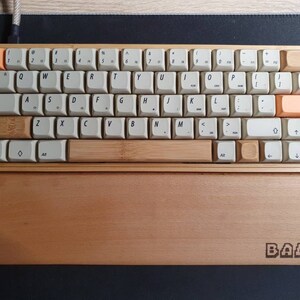 Perfect! Well protected package Caring vendor I absolutly recommend Thanks !
Antoine さんのレビュー(2021年 03月 16日)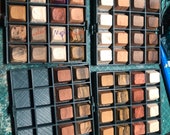 Thank you! My son loved them! Also thank you for the (2) additional sample keys.. we will be ordering more soon!
Andrea さんのレビュー(2021年 03月 12日)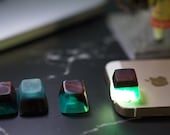 5/5 the seller was easy to communicate with and the shipping was fast
Alexander さんのレビュー(2021年 02月 16日)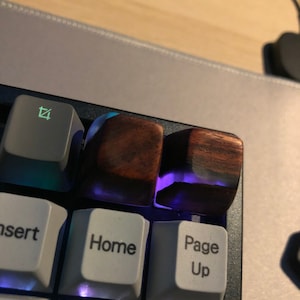 I love them! the seller was easy to communicate with, shipping to sweden was fast 5/5👍🏼
Alexander さんのレビュー(2021年 02月 16日)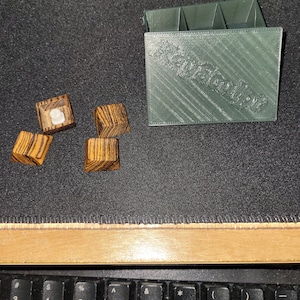 I cannot recommend this seller enough! He was very communicative, and extremely helpful. He asked me exactly what i was looking for and made custom keycaps with my choice of profile and wood, and they turned out AMAZING! They even came in a custom 3d printed box :) He also threw in an extra present for me! This seller is hands down THE BEST seller I have ever had the pleasure of doing business with. If you are considering this seller, DO IT!!!
Blake Williams さんのレビュー(2021年 02月 12日)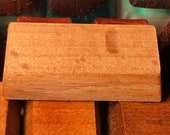 I ordered these 1.75 U keycaps for my custom mechanical keyboard, and they came in just fine. I was shipped three instead of two, which is a welcome addition. The presentation was great, but the only reason I didn't rate 5 stars is because one of the keycaps sits slightly slanted when placed on a key switch. While not a big issue, as I was sent three and only needed one, it should be mentioned. I would highly recommend this seller.
Maxwell さんのレビュー(2021年 02月 10日)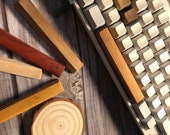 I am happy with the spacebar I ordered! It fits my HHKB perfectly. The seller is very very responsive!
Unregistered User 休止中のユーザーからのレビュー さんのレビュー(2021年 02月 8日)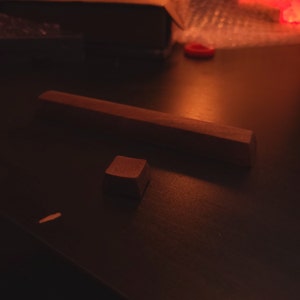 Custom ordered this spacebar made of walnut for my keyboard since it had an irregular size and Keysculptnerd came through with an amazing job and overall great Customer service with keeping me up to date with the progress of the spacebar. He even confirmed the size by asking me about my pcb and making sure it was correct. He also threw in a nice little extra keycap ! Thank you so much for this love it!
Geneva さんのレビュー(2021年 02月 7日)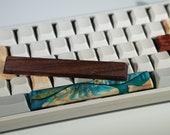 Really nice quality, and very kind seller! Would recommend!
andrearollo さんのレビュー(2021年 01月 6日)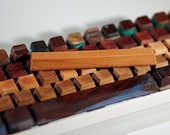 If you're thinking of ordering custom keycaps from Tim, here's the short version of my review: Do it. Do it because he's amazing to work with, ridiculously honest, utterly considerate, and so communicative. I ordered some custom wooden keycaps from Tim that began with orders for a spacebar, Enter key, and Esc key. I actually received more than those, however, because he was generous enough to make me some extra keycaps from the stock we selected [at no extra cost!]. He also assisted in my decisions at every turn, helping me choose a wood, providing updates, doing replacements on his own initiative when HE wasn't happy with the keycaps, etc. Basically, Tim is an artisan with a real talent for woodworking and for keeping clients happy. Buy from him because you won't regret it: I definitely haven't!
Anne さんのレビュー(2021年 01月 1日)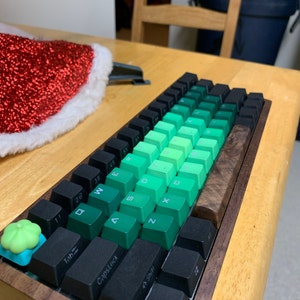 Amazing work and great customer service! Love the way my keyboard looks with this spacebar!
bennvelope さんのレビュー(2020年 12月 26日)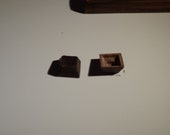 Amazing quality and workmanship. Went the extra mile.
Brad さんのレビュー(2020年 11月 30日)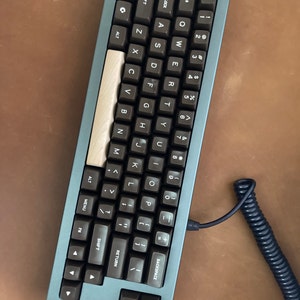 Looks really great. Great accent piece. The profile is on point as well and quite pleasant to touch. Also with this being a Topre slider I can use MX clone sliders on the rest without the worry of needing Nova's spacebar stabs. Seller also reached out beforehand pointing to an imperfection on the wood and ask if I had any concerns.
Koy さんのレビュー(2020年 11月 24日)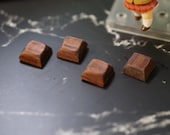 Amazing product with a very helpful and responsive seller.
Victor さんのレビュー(2020年 11月 17日)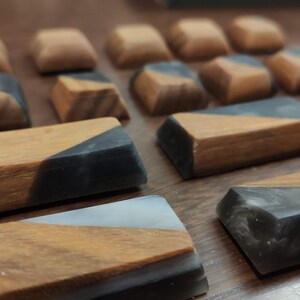 Feel smooth and beautiful grain. 木とレジンを接合したキーキャップをオーダーメイドで作成していただきました。 特殊なサイズやプロファイルの指定も受け付けていただけます。 また次回も作成をお願いしたいです。
zunewantan さんのレビュー(2020年 10月 9日)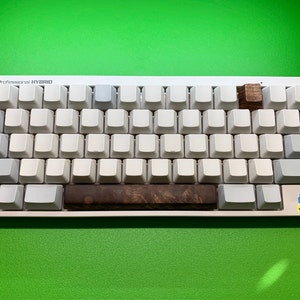 The key caps are nice looking, the seller is very nice to upgrade my walnut space to a better finish and give me an extra maple 1u cap. The 1u caps are slightly taller than the original caps after installed. The maple cap and space bar is very smooth make the walnut 1u feels like they need more sanding. Overall a very good shopping experience.
qbdrjrp070chk9ty さんのレビュー(2020年 11月 3日)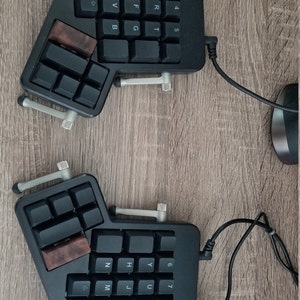 Exceptionally friendly and willing to work with you on exactly what you need. We've gone back and forth a few times trying to get it just right and it is clear that he wants you to be happy with what you receive. I ordered custom caps and the ones he sent work well, and feel great. I will definitely be ordering from him again the next time I want wooden keycaps.
Daniel さんのレビュー(2020年 11月 1日)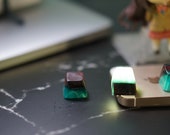 These were perfect and fit my theme beautifully
Dylan さんのレビュー(2020年 10月 31日)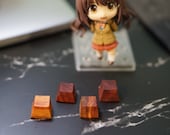 These worked perfectly on my keyboard. I had to clear out some extra plastic from one of the switch connections for it to fit on properly, but it ended up working out in the end. Thank you!
Dylan さんのレビュー(2020年 10月 30日)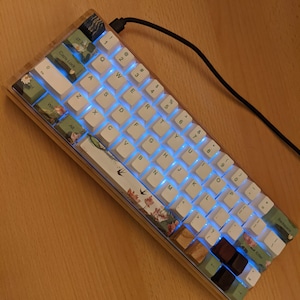 I ordered 4 different keys but actually got 6 because the first two keys didn't match the look I was asking for, the seller was so nice however to send them as additional pieces and work out keys that did match what I was looking for. The quality of the keys, their size, resin, stem etc. are all really good. The seller sent me pictures before shipping to make sure everything is alright. He was trying very much that everything was satisfying in the end. My only dislike is the R1 key, it is a bit too high and the stem was very tight and broke because of that when I first took it off. I would have gotten a replacement cap but instead I just installed the stem again. I still like the key, just be beware that you can't switch that specific key on and off often. Overall, I can't give less than 5 stars, great service!
Johannes さんのレビュー(2020年 10月 25日)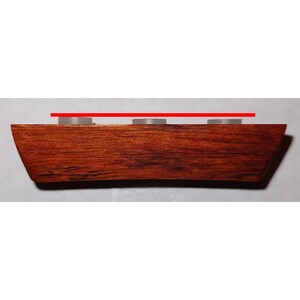 Seller is overwhelmingly generous and provided me with THREE sets of Shift keycaps for the price of one, after discussing various issues regarding alignment, height, seating, etc. all having to do with the stems. The actual wood on the keycaps is beautiful. All of the issues stem (pun intended) from the supporting stems underneath. We talked at length over shortcomings with the stems as they are belt-sanded, aligned and glued from generic(?) ones. I honestly feel like more time could be taken to sand them down evenly flat by hand, or just have them manufactured uniformly from the supplier so as to not need additional work. I certainly feel that I am overcritical, but at the same time, keycaps are precision products and minor flaws are very noticeable. Overall, AMAZING seller and person, but the product needs improvement.
Furvy さんのレビュー(2020年 10月 25日)
The finish is really nice, smooth and nice to the touch, the wood looks amazing and the resin goes really well with it. Will buy more keycaps for sure.
Joaquim Cuesta Mora さんのレビュー(2020年 10月 2日)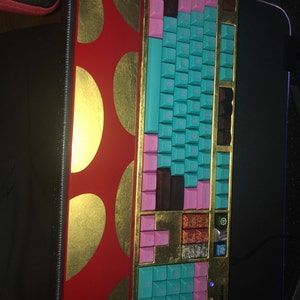 Very nice piece of wood the grain is fantastic. Fits perfectly on my Filco Majestouch.
Kamel さんのレビュー(2020年 09月 22日)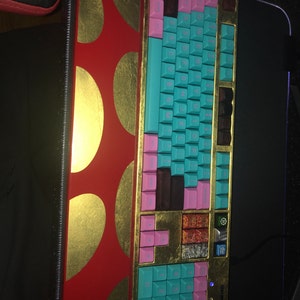 Fits perfectly on my mx style keyboard, feels really nice, and is beautiful. In the picture below it is on the f keys and escape key. I was also given a few extra keys for free!
Kamel さんのレビュー(2020年 09月 17日)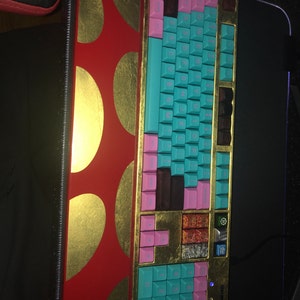 I got the red sandalwood key and its amazing. It fits perfectly on my Filco keyboard and I have it paired with a signature plastics Miami DSA keyset. This is the shift key and enter key on my keyboard in the picture.
Kamel さんのレビュー(2020年 09月 17日)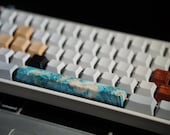 Amazing quality, easy to work with, very responsive. Thank you!
Jacob さんのレビュー(2020年 08月 30日)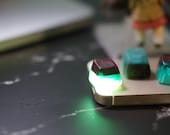 Ordered this piece for my escape key on my work keyboard. Got a message from the seller soon after--they said that there were some minor flaws in the piece I had selected, and that they felt they could do better. So they made me another one, and sent me both! I believe I ended up selecting the "new one" for my keyboard, but both were absolutely beautiful. Absolutely would buy again.
Daniel さんのレビュー(2020年 08月 24日)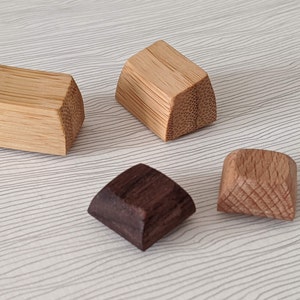 Very nice key caps. The wood has a nice structure and they're super smooth to the touch!
Markus さんのレビュー(2020年 04月 29日)